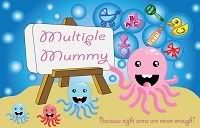 This post is a special post, one where I indulge in something I truly believe in – the power of the mind, the power of love and the healing possibilities of a community that comes together to do good.
A fellow blogger Kerry who writes at Multiple Mummy (she's a twin mum too), was struck down quite unexpectedly in August by a blood clot on the brain with a very fancy name and dire consequences. It rocked the blogging community as sudden and mysterious ailments tend to and everyone wanted to do something to help.
Sadly there was very little we could do as her fate was in the hands of expert doctors and surgeons. Her husband has shown to be a tower of strength and even continuing to update her blog in her absence to keep all of us updated on her condition. (click on the image and it will take you directly there) EVERYONE just wants this to go away and for Kerry to return home but she has been plagued with infections and every one step forwards seems to send her two steps backwards.
Last time I met Kerry we were drinking in an All Bar One after the CybHer conference back in June, we chatted for ages about all sorts and trust me she is the easiest of people to talk to. She is one of those people who are quite simply 'lovely'. I don't have photos of her, we were too engrossed in our chat but I do have an image of her in my mind, one that's smiling and laughing and showing the happy spirit she is.
So Saturday 24th at 10pm, we're all going to stop and send positive healing thoughts out to the universe in the hope that Kerry gets well soon and is home with her family for Christmas. If you'd like to take part please find all the information on Liska's Google + page If you'd like to write a post and show your support they're all being collected together on a blog hop where should Multiple Daddy want to stop by and read them he can.
Come on Kerry, let's get you home and well
Love Mari x